MINERALIZED Deodorant Powder
Safe ingredients

Eco-friendly

Effective
Regular price
$27.50 USD
Sale price
$27.50 USD
Unit price
per
Save 0%
Sold out
~$0.12 / day

~$0.12 / day, about the same price as other deodorants.

Full size lasts 2x-3x longer than other deodorants.

Samples last nearly as long as regular deodorants.
Scent: Woody, creamy, warm, inviting.

Includes 1 full-size Mineralized Deodorant Powder and 1 applicator.
Safe, non-toxic ingredients

Mineralized is the non-toxic deodorant powder.

It is made of things that are ALREADY in your body.

Compare that to chemical deodorants, full of bodily-foreign ingredients.

Mineralized uses magnesium and calcium to stop odor.

Stuff your body is familiar with.

Your body already manages magnesium and calcium.

They are part of the natural rhythms of your body.

Mineralized is BEYOND natural: It is completely non-toxic, by design.

 

Free of baking soda and aluminum.

Free of all chemicals.  Made of minerals magnesium and calcium.

Benefits

Very gentle on skin: No aluminum or baking soda. The "deodorant of last resorts" for many with sensitive skin.

pH very close to neutral.

"Feels like nothing" underarm feel. Free of any greasy, waxy or gooey residue because it is a powder. People love the way it feels!

Non-toxic: Free of plastics, petrochemicals (chemicals from oil), parabens, phthalates and lilials, and hormone / endocrine disruptors.

Vegan, gluten free, not tested on animals.

Won't stain clothing (if you get it on your clothes, it easily brushes off. Even dark clothes).

Coconut oil free version available (made with jojoba oil instead), for those with nut sensitivities.

Ingredient list:


Magnesium Hydroxide is an antacid and helps neutralize odor and is derived from sea water.

Magnesium Carbonate absorbs moisture, keeping you drier. 

Magnesium Oxide (Magnesia) is a hydroscopic (water-absorbing) compound also derived from sea water.  

Calcium Carbonate (Calcite) is an antacid and helps create an inhospitable environment for odor-causing bacteria. 

Calcium Sulfate This mineral also absorbs moisture and balance the formula.

Fractionated Coconut Oil or Jojoba Oil.  A very small amount of food-safe, organic oil is added to dampen the powder for easier application. 

(Don't want coconut oil? Try our Ultra Senstive Mineralized, made with jojoba oil )

Essential oils (in scented Mineralized). We source high-quality (organic when possible) essential oils for our scents.

 

Only 6 food-quality ingredients

Each ingredient is the highest purity ("food grade") and is safe to consume.  You could technically eat this deodorant (the unscented version).

Eco-friendly: the majority of the ingredients come from evaporating sea water and harvesting the remaining residual minerals. Not digging oil from the ground.

 

 

----

"It does not irritate my skin, and it works!" -Toni
Eco-friendly

Magnesium and calcium ingredients that neutralized body odor.

The formula was invented by a scientist turned creator.

We studied the scientific literature on the chemistry of body odor.

We then looked for compounds that satisfied 3 conditions:

Neutralized body odor
Made of minerals that are already in your body
Made of minerals that are naturally found in spring water sources.

 

Mineralized is a new concept in deodorant that sits at the intersection of those three conditions:

 

Explanations:

1. Firstly, it has to eliminate body odor.

2. To be harmless to your body for the long term, we chose minerals that are familiar and native to your body.

3. Short story: It is a return to natural water sources. Longer story can be found here.

 

 

Our formula is made of simple magnesium and calcium compounds (ingredients).

It does not contain baking soda, aluminum, or any chemicals. And it works.

 

Eco-Friendly

Eco-Friendly Product Life Cycle

Where do your products come from, and where do they end up?

We put a lot of thought into this when building Mineralized. We aren't perfect, but we are ahead of most others.

 

Sustainable Product Packaging

We are plastic-free.

Recyclable: our main container is made of recyclable aluminum.


Refillable: biodegradable cardboard refill containers, just fill up your container.


The applicator sponge is only 70% biodegradable. We are actively testing a fully biodegradable option that also works as an applicator (to see if it is actually biodegradable, as it is quite new technology).

We chose an applicator that has a long lifetime: it can be washed repeatedly without wear.

Shipping: lightweight, and no plastic in our shipping materials.


 

Mineralized Powder

We are free of petrochemicals.

Many personal care products use chemicals that are derived from oil.  This is how many common deodorants are made into sticks and gels. 

Even "vegetable-derived" chemicals come primarily from corn, a monocrop that is being shown to be harmful to the planet.

Mineralized ingredients are commonly sourced from evaporating high-mineral-content water (such as sea water), and the mineral residue is separated for use in industry. Specifically, most of our minerals come from the dead sea.


This is much better than digging oil out of the ground. 

Powder lifecycle: when you shower and Mineralized rinses away, you are only adding the same minerals back into the water where they came from.

 

 

 
Full body use

Since Mineralized is made of entirely safe ingredients, it is safe for full-body use: body, privates, face de-shiner, dry shampoo, and feet.
Scent Descriptions

Worried you won't like the scents? Free exchanges, just contact us!


Sandalwood (woody, creamy, warm, inviting)

Cherry Blossom (light, sweet and refreshing with notes of pear, rose, and vanilla)

Blue Tansy (sweet, earthy, herbal, complex)

Lavender (floral, clean, notes of herbs, calming)

Pink Grapefruit + Bergamot (bright, fruity, fresh, invigorating)

Sage (fresh, herbaceous, hints of eucalyptus and mint, magical)

Wild Black Spruce (freshly-cut pine, woodsy, musky, hardy)

Vanilla (sweet, rich, nostalgic)

Rose (Graceful, exquisite and softly floral)

Jasmine (Ethereal, lush, and mystical)

Unscented (smell like yourself)

Ultra Sensitive Jojoba Unscented (unscented, our most sensitive offering, free of coconut oil).
Try 45 days for free!

45-day returnless refunds. 

Try it and if you don't like it, it costs you nothing but a little time.

If this ends your search for a safe and effective deodorant, isn't it worth it?

We are taking the risk for you.

Just email us if you don't like it, we will refund your money and thank you for trying Mineralized.

Most customers really like Mineralized, and are happy the took a chance on a powder. We often hear that people wish they would have tried Mineralized sooner!

For refunds email hello@mineralized.com with your order number.

 
View full details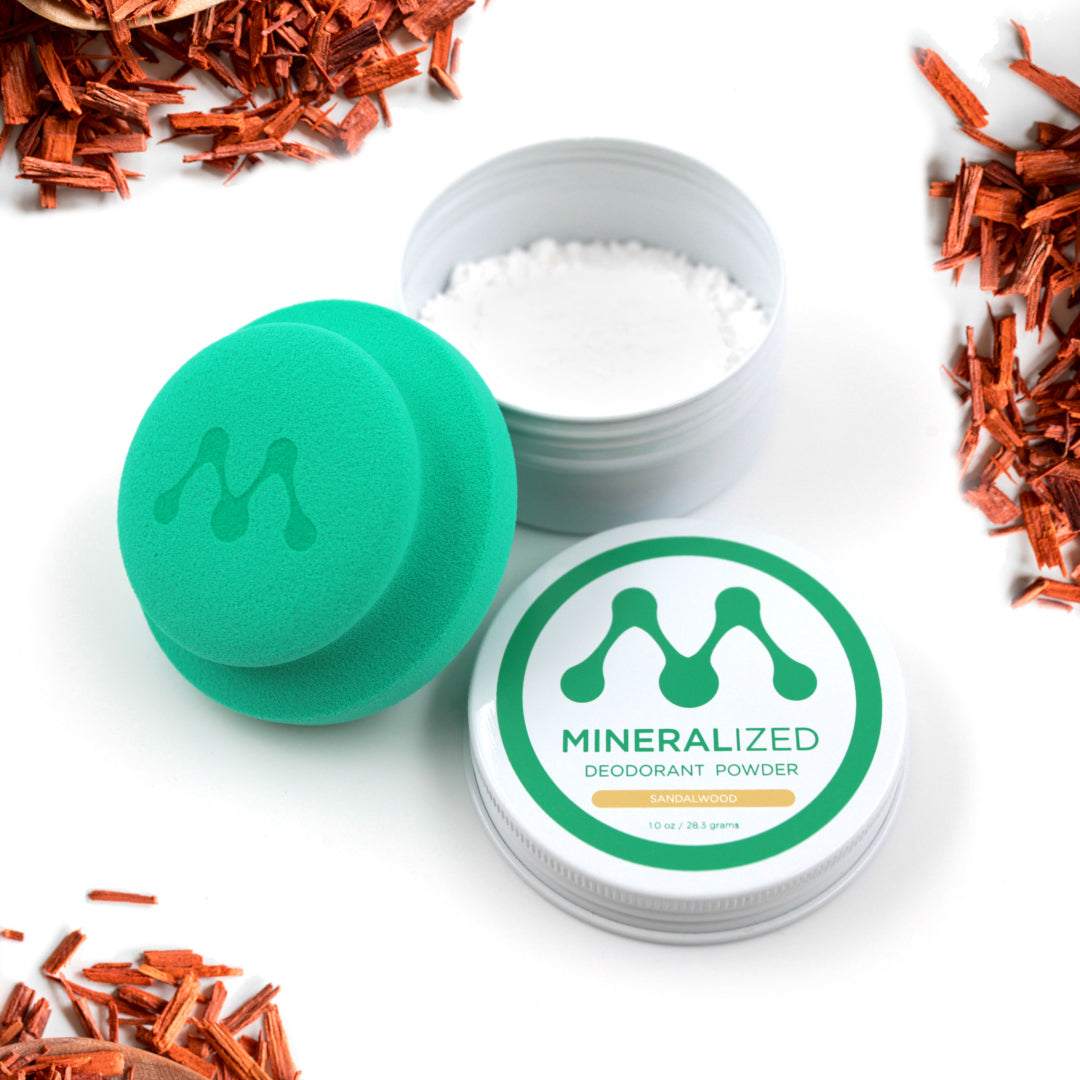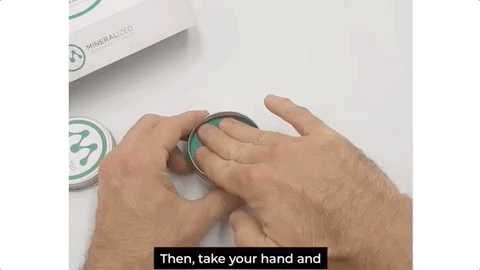 First, use your applicator to make a pressed powder.
After that, application is easy:
The applicator can be stored in the container. It is designed to fit snugly.